"Smile and say nothing", "Don't take the bait", "Turn it into a joke", "Don't get dragged into the mud". Anyone who ever confronted a bully – be it at an office watercooler, a school cafeteria or in a blue-carpeted TV studio where the future of Western democracy is being decided – might have heard such well-meant advice and wondered: "Is that all there is?".
The expectations for a clash with a boastful individual whose main agenda are to intimidate and humiliate seem to be set a very low level. You might want to call yourself lucky if you have survived a confrontation without being yelled at or without resorting to your opponent's own dirty tactics. Successfully dodging bullets might feel like a good outcome but it doesn't always get you exactly where you want to be that's why you need to be confident in managing conflict in the workplace.
Only four years ago, Hillary Clinton had some pretty tough choices to make when during the first presidential debate Donald Trump unraveled his full inventory of intellectually dishonest tricks. Stalked around the stage, mocked and shouted over, the former U.S. secretary of state preserved her cool but inevitably came across as defensive and too high-minded. She lost the game but only because the game that was entirely framed and controlled by her adversary. All over the world of old and new media there are of course many "no-go" zones where you simply cannot bet on winning an argument. A conspiracy theory WhatsApp group, a state propaganda channel or a Tucker Carlson cable show might be among them.
I would recommend fun, snappy and chillingly accurate analyses of a journalist and a communication training entrepreneur, Shane Snow to everyone who wants to understand why it is almost impossible to get out of those trap situations with dignity. He points out that in one of the main tricks behind dirty debating is to render "the other person invalid without having to fully and honestly address their true arguments". Taking down the FOX News darlings Snow helpfully catalogues their favorite tactics: "nonverbal pageantry (eye rolling, voice raising, mock surprise), deceptive wordplay, name calling, mockery, selective quotations, buried insults, […], offhand insinuations", accusing guest of using the same behaviors as they are using, putting words in their mouths.
Infotainment might be a lost cause but neither the politics nor your own work place should feel like such mine field.
An ultimate ambition of all rational, compassionate people might be to change the game completely and to address the toxic culture that allows dysfunctional loudmouths rise to power in the first place. While we work on that, there are still a few things we can do in the meantime.
There are many helpful rhetoric tactics that brilliant linguist and an expert in mechanisms of propaganda George Lakoff identified ahead of the Biden-Trump debate. A big enthusiast of divertive jokes and ridicule, Lakoff recommends them as a way of getting out of a maze of lies and misinformation. Instead of meticulously factchecking every outrageous statement it's better to highlight the person's behavior and confidently name each strategy they attempt. Call out the tactic, but not the person. "That was scapegoating… That was a mischaracterization… That was sexist…" or simply "There you go again…" Ronald Regan famously sighed in the 1980 debate with Jimmy Carter. The more humor we use doing that, the better. This way we don't get stuck in someone else's deceptive metaphors and we might even manage to shift the power dynamic.
For Barbara Coloroso, the author of "The Bully, the Bullied, and the Bystander," who spoke to the New Yorker about middle-school bullies it all comes down to turning the tables and reframing the situation. Name-calling, blaming back or getting into a prosecutorial mode only drags you deeper into atmosphere of conflict and resentment where bullies thrive.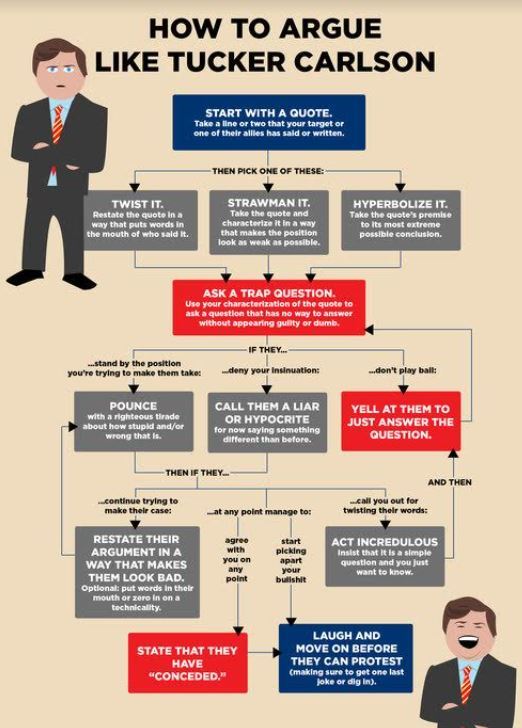 Instead of focusing on your troubled opponent – focus on yourself; your comfort, your energy and your personal impact. Some useful life hacks already made it into the "presentational skills training canon". Amy Cuddy's wonderful, empowering TED Talk speech on power posing from 2012 is a fantastic introduction into effectively using your body language to appear calm and confident. Taking up space, leaning in, making eye contact, planting your feet firmly on the ground – those simple changes in posture cam make a huge difference in the way you feel and are perceived.
To take it up a notch you might want to practice positive self-talk ahead of the dreaded confrontation. "I have a right to be here". "I am confident, kind human who takes no satisfaction from undermining others". This strategic empowerment might not get you an applause for the best debate punch of the night but will give you the energy and stamina to match your opponents brute force. Self-care will allow you step up to the demands of public speaking and the give your voice the necessary power and passion to carry your message.
Intellectual arguments are unfortunately less effective than confident behavioral mannerisms. The good news is that these are easy to establish. Personal coaching is a tested way to tweak anything that you fell might hold you back in high pressure situations.
The other good news is that you really don't always have to "take it with a laugh" to seems relatable. Jo Biden's go to strategy to smile each time Trump attacked him, worked only because his entire body was already projecting hyper-alert status. Without a firm posture and balanced gesturing, he would only seem nervous and intimidated. In such stomach-turning clashes moderate tone and unbroken eye contact can get you much further and might kick the jitters back into your opponent's corner.
In the USA election season, it's easy to think of those issues only as relevant only to the public figures.
But you don't have to be tasked with single-handedly defending the democracy against a pompous demagogue to know how it feels to be undermined by a mean-spirited narcissist.
Not getting butchered in those situations should not be the goal. There's often just too much at stake. Look for practical ways to help yourself to shake off the anxiety and to stand for the things you really believe in.